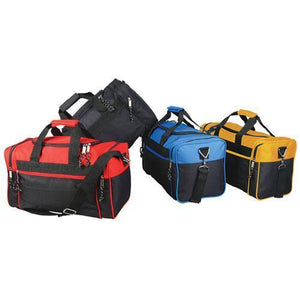 A duffel bag, duffle bag, kit bag or gym bag is a large cylindrical bag made of cloth (or other fabric), historically with a top closure.
The name comes from Duffel,[1] a town in Flanders, Belgium, where the thick cloth used to make the bag originated in the 17th century. [2]. According to the Oxford English Dictionary, the word dates back to 1677, used to describe 'a coarse woollen cloth having a thick nap or frieze. More recently, a duffel bag typically refers to the specific style of bag, though the phrase may also be used to refer to any large generic holdall or a bag made of thick fabric.
It is often used as luggage or to carry sports equipment by people who travel in the outdoors. Duffel bags or kit bags are also often used by military personnel; when used by sailors or marines they are sometimes called seabags.