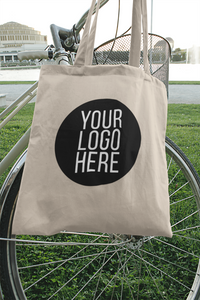 You may be thinking, "Why do I need another bag?" The truth is, we all have several bags that we use on a daily basis. Whether you are taking your lunch to work or going to the grocery store, you need a bag or two to carry things in. A good quality Canvas tote bag can be used for multiple purposes and is an essential piece of equipment for anyone who wants to keep their lives organized!
Benefits Canvas tote bag
They are lightweight and portable 
A lightweight Canvas tote bag is perfect for carrying around books, groceries, clothes, or other items. You can also use it when going shopping or traveling with only a few items because they are easy to carry around without feeling weighed down.
They come in many sizes and shapes 
Canvas tote bags come in many different sizes so that you can find one that fits what you need it for perfectly! Whether you want it big enough for a week's worth of groceries or something small enough just to hold the essentials while traveling, there will be something available that meets your needs. You can even customize your own with fun designs or prints!
Easy organization
If you have a lot of stuff going on in your life, it's important to keep things organized and easy to find when you need them. A roomy Canvas tote bag makes it easy to keep your belongings organized and in one place when you need them.
Safer than a purse or wallet
If you're out running errands during the day, it's best not to carry your wallet around in case someone tries to steal from you — but what do you do if you need your keys? A large open pocket on the inside of a Canvas tote bag is perfect for storing small essentials like keys and phone chargers so they're easily accessible when you need them.
They're durable and long-lasting
Canvas tote bags are made from durable materials like canvas or leather so they'll last for years without showing signs of wear and tear as other types of bags do over time (such as plastic ones).
Size Matters
The size of your Canvas tote bag is going to be largely determined by what you intend to put in it. If you're just planning on using it as a carry-all for general items, then you might want something larger than if you're just taking a few things with you on a day trip.
A large Canvas tote bag can be used in many different ways, but they almost always have one thing in common: versatility. You can use them to transport groceries or books, or even as personal luggage when traveling. They're great for storing clothes and other items in your closet, too!
The size of the strap is also something worth considering. The longer the strap, the more comfortable it will be to carry around with you all day long — but of course, that means that it'll take up more space when folded up at home or in your car when not being used.
Color And Design
There is no right or wrong answer when it comes to choosing a Canvas tote bag color or design. You can choose the color that you like, or you can choose something that matches your personality and style.
When it comes to bag designs, there are many different styles available. You can choose between a simple, plain bag or one with many different designs and patterns. The pattern on your bag may also be reflective of your personality and interests.
If you want your bag to match an outfit, then it is best to choose a simple design that will not clash with anything else that you wear.
If you want your bag to match an outfit but also want it to be unique, then you should consider buying a design that has been printed onto the fabric rather than painted on top of it. This way, you will still be able to see the fabric underneath the pattern of your choice but will still have something unique about the look of your bag.
Security Features
Many Canvas tote bags have security features built into them. These features help deter thieves from stealing your bag and contents, so you can rest assured that your belongings are safe while on the go.
Security features include:
Zippers -

Zippers can be locked with a padlock or zipper lock to prevent someone from opening them without permission.

Hidden pockets -

Pockets that are hidden inside the bag or made out of material that's difficult to cut through (like metal) can be used to hide valuables such as wallets and cell phones.

Strap locks -

Straps can be locked down with a small padlock, making it harder for someone to cut them off if they want to grab your bag.
Avoid excessive exposure to sunlight and heat.

The material may fade over time if exposed too much to direct sunlight or high temperatures (like hot car trunks). If you have a bag that has been damaged by sunlight or heat exposure, try re-dyeing it with a color remover solution to see if that helps. Be aware that colors may not be exactly the same as before, but it will at least remove the damage caused by exposure to heat and light.

Avoid using strong detergents or fabric softeners

as they may cause the color to fade, or the material to deteriorate over time. It's also important not to use dryer sheets because they can leave residue on your bag that attracts dirt easily. Instead, use a mild soap solution and cold water; allow the bag to air dry naturally away from direct sunlight or heat sources (like window sills).

If needed, spot-clean only with a mild soap solution and cold water; allow to dry naturally away from direct sunlight or heat sources.

Always hand wash in cold water before first use and after each subsequent use.

Wash them inside out in cold water on the gentle cycle in cold water with mild detergent.

Make sure not to overstuff them because this can stretch the seams out of shape and cause holes in the fabric. 

Remove all items from the bag before cleaning. This will make it easier for you to clean the bag as well as avoid damaging its contents.

Suggested to pretreat visible stains with stain remover. Before washing, test the washability of any stains using a small amount of water on an inconspicuous area. If the stain comes out, then use a small amount of stain remover on a hidden part of the bag or use a pre-wash product that contains enzymes, which can remove food spills and blood stains.

Mix warm water with laundry detergent and clean the bag with a terry washcloth or a soft bristle brush. Gently scrub all areas of the bag, including seams, handles, straps, and bottom of your Canvas tote bag.
FAQs
Q: What's the actual purpose of Canvas tote bags?
 A: The purpose of a Canvas tote bag is to carry things around. It is a bag that you can carry on your arm or over your shoulder. There are different types of bags that have various uses, but all of them are designed to carry things around.
Canvas tote bags are great for traveling and for everyday use. They're made from different materials like leather, canvas, and plastic. Some people also choose to use them as an alternative to shopping bags when they go grocery shopping so they don't have to keep using paper ones that get thrown away after each use (which isn't good for the environment).
Q: Can l clean my Canvas tote bag and reuse it?
A: Yes! You can clean your tote with soap and water, or if you want to keep it looking new, we recommend using a damp cloth and mild detergent. You can also throw it in the washing machine on the gentle cycle. When you are done cleaning it, just hang it up to dry and you will be ready to go again.
Q: What's the ideal size of a Canvas tote bag?
 A: The ideal size of a Canvas tote bag is one that fits everything you need and nothing more.
Now, if you're going to be carrying around your laptop, then you might want one that holds more than just a few books. But if all you're carrying is an iPad and a few notebooks, then it's not necessary for your Tote to be as large as some people think it should be.
Q: Where can I find great Canvas tote bags?
A: There are so many places to find great totes . Each one has its own style and personality and they even have a variety of colors available. You can customize your bag with a monogram or use your own artwork. These sites offer plenty of choices for whatever style you want to go for!
Takeaway
Canvas tote bags are often seen as simply throwaway items, which is a shame. With careful maintenance, you can use your Canvas tote bags for many years.