Canvas Bag - Items tagged as "Canvas tote bags"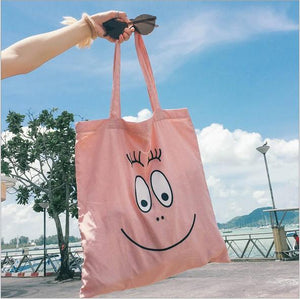 Over the years, Canvas Tote bag has been observed to be the favorites among shoppers and general goods packagers alike. One may wonder why it is so.
The usefulness of these Canvas Tote bags can never be overemphasized as reasons to use a Canvas amass. Canvas bags have a lot of appeals when it comes to custom bag material, and there is a very high chance that the first shopping bag you pass when you leave your home is either a small canvas bag or a big one. This global love for quality canvas tote bags can be traced to numerous qualities.
Classy canvas tote bags are known to have excellent strength to weight ratio giving it the qualities to be the best bag for heavy groceries. Although light when empty, its unique knitting technique, plain weave, gives it a notorious strength which enables it to carry heavy loads.
Its durability and re-usable nature make it the perfect bag choice for people with a low budget. This exceptional quality comes from its material makeup, cotton, which is a durable fabric. Its economical process of production makes it one of the most affordable shopping bags you can encounter.
Canvas tote bags are the perfect match for business promoters and advertisers who wish to imprint on a canvas bag for marketing purposes. Its high ink transfer nature makes it the best choice for imprinting purposes. Whether you want it for logo imprinting on a shopping bag or text imprinting, a canvas tote bag is your best bet.
You can get more than 100 styles of custom canvas bags stereotyped for your need. These styles range in size and weight and have both simple and complex nature. While simple, single-compartment styles are perfect for use as grocery bags, more complex styles with zippers or compartments and pockets are ideal for use as school bags.
No matter your need, budget or taste, a Canvas bag always got you covered!