Custom Tote Bags No Minimum Purchase - Items tagged as "Non woven"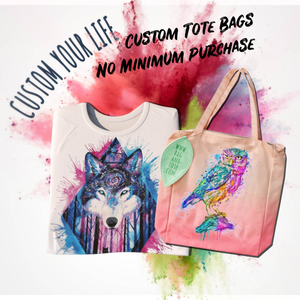 Now With BAGANDTOTE You Can Customize Tote Bags, Whether It's Canvas Tote Bag Or Cotton Tote Bag.
We Offer Full-Color Printing With Just One Click. 
You Can Upload Your Logo Or Your Design Or Your Slogan Or Your Words Or Etc..
There Is No Minimum Printing You Can Print From One Single Bag Up To 1000000 Bags, You Can Rely on Us To Represent Your Ideas To the World.
As BAGANDTOTE.COM Is A Smart Company We Are Using A Very Developed Tools To Print On The Bags, T-Shirts, Towels, And Aprons.
We Don't Charge Setup Fee Or Screening Fee Or Any Hidden Fees Just Send Us Your Log And We Will Take Care Of The Rest ( BAGANDTOTE.COM IS HASSLE FREE COMPANY ) 
You Can Upload Your Design While You Placing The Order, Or Just Send It To Us By Email: INFO@BAGANDTOTE.COM