Non Woven Tote Bag - Items tagged as "Reusable tote bag"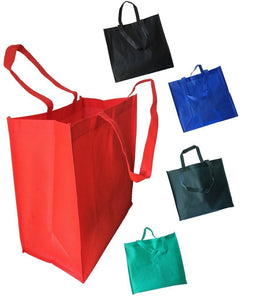 Non-Woven Tote Bag, Polyester Tote Bag, Low Price Tote Bag 
Are you in search of a durable shopping bag? The non-woven Tote bag for shopping is what you deserve to give you maximum shopping experience. It's reasonable to assume that non-woven bags are made from fabrics produced in a way other than weaving. As bag experts, let's enlighten you on how this amazing bag for shopping is made. These non-woven tote bags are made from fibres entangled together by engineering means, as opposed being weaved. Yes, you can say they're engineered, thus its uniqueness.
The non-woven tote bags are versatile in use which is why it's a favorite among shoppers, travelers, brand promoters and what have you. These incredible bags are the perfect bag for everyday people on the go, whether you're off to school, work, or just a picnic at the park. Its sizeable imprint area is entirely made to accommodate your logo, business name and any detail you wish to include. With its featured stitching at the side, bottom gussets, reinforced sewn handles, and large imprint area, it is that amazing promotional bag for you. When used as a promotional tote bag, it gives your audience a feeling of love as you provided a convenient shopping bag for them.
Being made from durable fabrics, these bags last years of usage whether they're being used for individual use or for promotional purposes. You never get tired of it because it's a reusable non-woven tote bag which can fit into your need as a reusable grocery bag, a reusable travelling bag or just a reusable picnic bag.
The beautiful thing about this bag is that it's a cheap tote bag. The prices of a wholesale non-woven tote bag and single non-woven tote bag at our store are budget-friendly and made so just for you. Feel free to go through our online store for tote bags and make your choice.