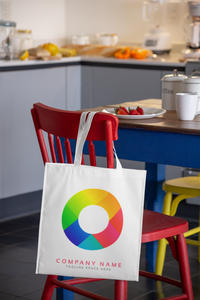 Canvas tote bags make remarkable gifts, and they are also a stunning way to carry thing around town or
home from the shop. On their own, they can a bit blah, but you can kick their style level up a notch with
some easy additions.
The key is using special decorating techniques to express your own personal style.
Lacy abstract painted pattern
Fabric paint in your picked colors can help you change a simple Cute canvas tote into a real work of art. You
can use stencils for an extra uniform look, but using little paintbrushes lets you make a delicate, lacy
pattern freehand. This is a simple project that makes a fun girls night activity.

Things you will need
 Very little paintbrushes
 Fabric paint in your favorite shades
 Practice fabric
 Plain canvas tote bag

What to do
1) Drip your brush in one of the paint colors.

2) Use the paint to your practice fabric, permitting the brush to fan out a little for texture. Try
some different holds on the paintbrush, experiment with offering it a pretty swoop at the end.

3) When you are ready, move on to the canvas tote bag. Use one shade of paint at a time to keep
the pattern uniform.

4) Permit the bag to dry fully before using it.
Other options

Add buttons
Buttons come in various styles, so it is simple to include some that compliment your look. You can add
huge buttons where each strap meets the main part of the tote, or you can include buttons going down
the front like a shirt. Sew them on if you are handy with needle, or use warm glue if you do not want to
take the time.

Decorate the straps
You do not have to change the straps to provide a tote a fresh look. You can just use fabric glue to apply
bright ribbon right over the existing straps. Pick a patterned ribbon for a thrill look for a strong color for
a more classic appearance.
Try a flower

You can also include a simple to your tote. Buy a flower at the craft store and glue or pin it where one of
the strap meets the body of the tote.

Experiment with different looks
There is no need to settle for blah canvas tote bag when you can include a personal touch with just a
few materials and a pretty time. Experiment with different looks so you have one of every outfit or
activity.