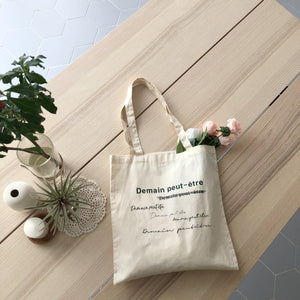 Canvas tote bags for weddings are the latest trends used to welcome your guests to your event and set them in the right mood for the big day. They should not be used to replace the thank you notes, but it is going an extra mile to tell your guests that you appreciate them gracing your occasion and for their support. They are easy to personalize depending on the color, size and the design that you want.
There are several designs available to choose from, but you can also design your own, and work with it. Additionally, if what you have in mind is a bit vague, you can describe it to the designer to come up with a unique yet classy design for the big day. It is the best welcome gift for your guests filled with many memorable gifts. 
Costs
The amount you are willing to spend on the Jumbo canvas tote bags in entirely up to you. You can go for the expensive and lavish Plain canvas bags filled with expensive gifts for your bridal team and your guests. Alternatively, you can go for the cheap Tote Bags, simple yet elegant and classy designs with equally simple gifts. There are some that are even homemade which significantly cuts on the costs. The number of guests also will determine the price. If they are many, then the cost will be more as compared to a few guests. However, you can decide to give the Canvas tote bags to a few close friends or high profile guests if you cannot manage to have each for all your guests. 
Delivering the Canvas bags to your guests
Canvas Tote bags are a great way of welcoming your guests to the party mood. However, sometimes getting them to the guests can be a real headache especially if they are many or far away. Below are some ideas on how you can make this easy, fun and productive:
  You can decide to make arrangements with the hotel where the guests will stay to make the deliveries. They may charge a minimal fee, but it will be worth it at the end of the day. You can rest assured that all the guests intended to get the bags will have them on time since they get them as they check into their rooms. However, you will have to give the hotel some few days to organize them to ensure delivery is as intended.

  If your guests are not too many, you can decide to deliver the bags yourself. Get assistance from your bridal party to make it faster and more fun. It is the best way to go about it since your guests appreciate your effort more. It feels personalized and well thought of as well.

  There are those that are not very bulky while empty that you can slip under the door after your guests check in. It is a creative and smart way to make the whole event fun and memorable. There is no need to get a headache over how to make the delivery, even the easiest and simple ways can make all the difference to your guests. 
What to put in the Canvas tote bag
There are countless options that you can fill it. What to go for will depend on your category of guests, the type of wedding reception and your budget among others.
  Most of the guests that will come for your big day will be in town for a few days. Plan several activities for them to take part. Having a weekend schedule or work plan inside the canvas tote bags will go a long way in helping your guests have a good time after the wedding. The programs are easy to generate using your computer or have them custom made with personalized messages. 

  Since they will be outdoors for the better part of the day, you can decide to fill the bags with snacks and drinks if you want to look fancy. You need to keep it simple and work within your budget. Also, consider to include both sweet and salty options depending on what each of the guests will like. 

  Other useful items like safety pins, wipes, lip balm, aspirin and sunscreen among others are an option. These are items that the guests are likely to need though under unforeseen circumstances. You can also include personalized local items like a postcard that will describe the theme of your wedding. 
Gifts according to season
Fall: this is the perfect time to relax and be in a happy, relaxed mood. The leaves are changing color, and the air around is clean and crisp. Fill the tote bags with fruits for the season and probably a scented candle for the evening as they relax after a long fun day. 
Winter: weddings held during winter are fun, but also many challenges associated with the weather. Therefore in the Canvas tote bags, have something to warm up your guests like hot coco essentials. For those who would want a different kind of warming up, you can have them a bottle of champagne. You can also have some over the counter medications for those who will catch a cold as well as vitamin C booster for their immune system. 
Spring: spring weddings are the perfect sign to start fresh and new things. You can have a selection of herbal teas as well as tea mugs in the bags. Also, include cookies and few edible fruits and flowers that go with the flowery season. 
Summer: this is the hottest time of the year, start your gift pack with the most favorite treat for your guests; ice cream. Additionally, alcohol for the adults will be a great way to pass the time in the evenings under the skies or even indoors. You can also have a reusable water bottle that can be filled on the go to keep hydrated. 
Personalized canvas tote bags are a perfect way to make your day even more memorable to your guests. They are the best kind of thank you note to your guests which ensures that they enjoy the day and a few days to follow.