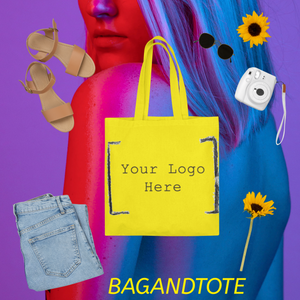 Create your own customized Canvas tote bag. In this easy home sewing project, you'll learn how to construct a tote bag that's suitable for both work and leisure.
Custom Canvas tote bags can help you make a unique fashion statement. Here's a basic tote bag pattern that will show you how to sew a wonderfully cute tote step by step. The nicest feature is that it can be worn both ways! Make one for yourself, or a dozen to give away!
With a little experience, you'll be able to make these basic bags in no time on a sewing machine. Lined bags are simple to make and come in a variety of beautiful designs. Don't forget to check out our design for a matching zippered pouch!
Create Your Own Canvas Tote Bags Today
Many people in today's society are becoming more environmentally conscious and aware of the need for sustainability. People are attempting to lower their carbon footprint and aid the environment in a variety of ways, from reducing the number of throwaway containers they use to recycling and repurposing specific goods for other use.
Reusable tote bags are one of the most prevalent ways to achieve this. Custom reusable bags are a product that may be used in a variety of ways. They contribute to the reduction of plastic waste while also providing functionality and usability.
When you're in the grocery store, take a peek around while you're waiting in line. Countless people will be packing their belongings in their own reusable bags that they brought from home, rather than using plastic bags.
Custom reusable tote bags provide the practical necessity for individuals to be able to carry objects and products about effortlessly, which they do several times a week, if not every day. These personalized totes are an excellent way to showcase your business and raise brand awareness.
Materials Needed:
1/2 yard cotton fabric is required.
For the inner lining, use 1/2 yard of similar cotton fabric.
Heavy fusible interfacing, 1/2 yard
The strap is 42" long and made of canvas.
rotary cutter or fabric scissors
machine for sewing
Fabrics to be cut
For the first phase of this DIY tote bag project, cut two 18"x14" rectangles of both outer and inner fabric, then cut two 18"x14" rectangles of interfacing. Canvas straps should be cut into two 21" lengths.
Snip Corners
Snip a 2"x2" square from only the bottom corners of all rectangles on the long side. Repeat the process for the interfacing. This will be the tote's foundation.
Sew the sides together after adding interfacing
Interfacing should be pressed to the wrong side of the outer fabric rectangle. Tip: When it comes to heating and applying your interfacing, follow the manufacturer's instructions. Right sides together, pin the outside fabric and sew straight1/2" seams around the sides and bottom of the piece. Keep the top and two cut corners unstitched. Seams should be pressed open.
Make a corner
Pinch gaps in cut corners together, aligning the side and bottom seams in the middle. Sew a 1/2" seam and pin-straight across. This stage gives the bag more depth and a flat bottom.
Sew the liner's sides and corners together
Repeat the procedures above with the right sides of the inner (liner) fabric rectangles.
Pin the pieces together
Turn the liner right side out and insert it within the outer fabrics, right sides together. Tuck canvas straps between the inner and outer fabrics so that two of their edges face the front and two of their edges face the back of the bag. Pin the end of each canvas strap to the side seam about four inches away, then pin the fabric sides together around the perimeter of the bag opening.
Sewing the Bag's Opening
Stitch a1/2" seam almost all the way around the bag, pausing4" before the start point to catch all four ends of the canvas straps and allow enough room for turning.
Press and turn
Turn the tote bag right-side out by pulling both fabrics and straps through the 4" opening. To remove creases, lightly press with a heated iron.
Finishing and top-stitching
Finish the edges of the tote bag by topstitching around the entire opening. This will also assist to reinforce the canvas straps and close the gap left for turning in the previous stage.
What Fabrics are Good for Canvas Tote Bags?
Tote bags are a fun project that can be constructed in a variety of forms, sizes, and materials and may be used to carry a variety of items.
Tote bags should be made of durable fabrics like canvas, denim, twill, drapery fabric, upholstery fabric, and outdoor fabric. Because many tote bags don't need to be cleaned often, novelty drapery and upholstery fabrics can be interesting to use. Vinyl and nylon are two more durable materials.
Cotton textiles are perfect for tote bag linings. Choose between a durable all-purpose muslin, bright broadcloth, or a lovely cotton pattern.
Depending on the bag fabric and style, it's generally a good idea to use interfacing or stabilizer to add more rigidity. Firmer interfacing is required for a lightweight cloth than for a heavy fabric. The stiff fusible stabilizer works well with some styles. Use fleece interfacing for a softer feel.
You can use webbing or the same fabric as the bag to build the handles.
Benefits of Making Your Own Tote Bags At Home
A tote bag is a very practical accessory. It's a straightforward product with a wide range of applications. A tote bag is defined as a mid-large bag with two parallel handles in its most basic form. Tote bags are larger and untied at the top than most other handbags.
Using your own bags reduces the amount of plastic bags that wind up in landfills or other locations where wildlife can become entangled in or ingest.
When you bring your own bags to the store, many of them will give you a discount. Ask the cashier if the store offers bag discounts when you're checking out. You should be able to collect roughly five cents per bag. You can save around $13 per year if you shop once a week and use roughly five bags. Hey, a little goes a long way!
Conclusion,
Canvas tote bags are ideal for use on the go or at the beach. They're easy to produce and come in a range of designs and solid colors. The cotton fabric is strong enough to handle a variety of stuff, including larger items like books.