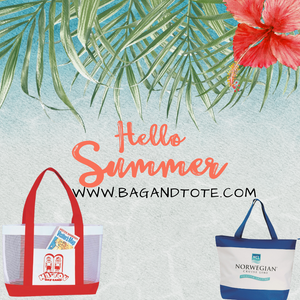 Canvas Tote bags were marketed as an environmentally beneficial solution since they could be reused multiple times without degrading. To learn more read this article.
It is unsurprising that the environment is subjected to several negative impacts in a world where consumption is so high. The use of energy and the utilization of natural resources are increasing due to the growing population and increasing demands. As a result, recent years have seen global warming and a decline in the amount of water available on the planet. 
One of the main reasons for this is the widespread usage of petroleum-derived plastic bags, which contain extremely dangerous chemicals, as well as their improper disposal and widespread use in society. In order to avoid this problem, we have focused in recent years on environmentally friendly tote bags made of healthy materials that are 100% recyclable. 
A person with a simple shopping habit uses 500 to 1000 bags each year, the majority of which are plastic bags, which are known to be detrimental to individuals and the environment. Instead of using these damaging nylon bags, which take many years to decompose in nature, a more environmentally friendly approach to tote bag culture must be adopted as soon as possible. 
A tote bag may make carrying your items much easier, whether you're going to the grocery or carting books to class. Whatever you choose to load them with, they'll be there to lend a helping hand. Although tote bags are manufactured of a variety of materials, plastic is one of the most popular! We wear a lot of fake leather coats, nylon stockings, and polyester sweaters in reality. 
What is the process for making Canvas totes? What is the connection between fabric and plastic? Prepare to learn how to make beautiful totes that are easy to carry.
The majority of woven tote bags are made from fabric from your local grocery or craft store. Because the material has already been prepared and processed, weaving bags can often be made in the comfort of your own home. 
What Is The Procedure for Creating Tote Bags?
Let's dig deeper into each phase now that you know how totes get their names and the vocabulary associated with the manufacturing process! 
Plastic polypropylene pellets are melted and pushed through a spinneret to form filaments.

On a conveyor belt, filaments are dispersed and flattened into sheets.

Once the sheets have cooled, they are bundled into huge rolls of fabric.

When the fabric is ready to be made into a tote bag, it is measured and trimmed to shape.

The seams and handles of the bag are either heat-sealed or stitched together.

A customized logo will be added to the finished tote bags using screen printing or heat transfer. 
Why Should You Carry Tote Bags?
Tote bags and bags are not only environmentally beneficial and healthful, but they also don't bother consumers in terms of utility and aesthetics. The tote bags are available in a variety of forms, including wooden handles, short or long handles, and maybe conveniently carried anywhere.  Because of the thick woven cotton fabric, tote bags are not visible and are quite protective.
Because of the sustainability of environmental circumstances and the fact that human health is not subjected to unpleasant conditions, the usage of renewable, eco-friendly products should be promoted in many areas, such as tote bags. 
Is It True That Using Tote Bags is Good for The Environment?
Americans have been trained in the superiority of tote bags for at least a few decades.
According to experts, reusable bags are good for the environment. Disposable bags, on the other hand, could be dangerous. To reduce waste, municipalities around the country have taken steps to limit the use of plastic shopping bags. 
Many businesses have stopped supplying plastic sacks or charge a hefty fee for them. Bag-recycling schemes have been implemented across the country. The tote has grown in size and popularity, but its environmental advantage has decreased in value. Many stores sell logo-stamped reusable bags for a cheap (or even no) fee at the register.
Designers have embraced the shape and elevated it in popularity. 
Tote Bags in a Variety of Situations
Most tote bags are used as reusable shopping bags, especially because some establishments provide them as an alternative to plastic bags. Totes, on the other hand, should not be limited to food stores. In a variety of scenarios, they're just as helpful as their plastic equivalents. 
Travel: A tote bag is ideal for a quick carry-on bag. Not to mention that you won't need a plastic bag from the airport kiosk to toss in that just purchased magazine.
Garden: If you're a gardener, you understand how inconvenient it may be to get your fruit from the garden to the kitchen. It will be 10 times faster if you utilize tote bags instead of plastic bags. 
Work: Small tote bags are ideal for carrying lunch to the office. You'll also save money by not having to bring your lunch in a plastic or paper bag. 
Storage: Tote bags are excellent storage containers for items such as art supplies, toys, and sewing tools. You can also color-code them to make it easier to discover what you need, which beats rummaging through a dozen plastic bags that all look the same. 
Garbage: A garbage liner for tiny trash bins is one of the most common ways to "reuse" a plastic bag. Consider dumping dryer sheets and lint into a garbage bin lined with a tote bag that is also easy to wash when dirty. 
The bigger the impact of a tote bag on the environment, the more you use it. Try using a tote bag whenever you need to carry or transfer anything. You won't be disappointed with their convenience and dependability. 
Final Words,
Tote bags can be reused, repurposed, or recycled into a variety of interesting and useful objects. By refusing to use plastic bags, you are reducing plastic pollution, protecting animals' lives, and extending the life of the Earth's atmosphere.