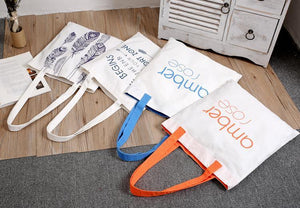 Are you looking for a canvas tote bag or plain tote bag that matches your style and needs? If yes, you have come to the right place.
We get it: today's canvas tote bags come in a vast range of patterns, colors, sizes, types, and materials. Whether you need a sleek canvas tote bag for work, a cotton tote bag for grocery shopping, non-woven tote bag for colorful designs or just a plain tote bag for everyday use, Bag & Tote has got you covered. With all these options and more, you'll certainly be spoilt for choice.
That's why when looking for an ideal plain tote bag or canvas tote bag, there a raft of steps you ought to follow and some things you should consider to make the whole process effortlessly easy. Lucky for you, we've rounded up four insider secrets to choosing a tote that's right for you.
What's Your Style?
There nothing that feels quite like having a canvas tote bag that marries perfectly with your taste in fashion and style. Ladies, am I right or what? That's why it pays to pick out one in your favorite color, and pattern. It should also bring out the best of your personality and style.
What's the Purpose?
Perhaps the first thing you should think about is what you need the plain tote bag for? Sure, it can be stylish and chic, but will the tote bag serve its intended purpose? If you are looking for the perfect office bag, for instance, you want a plain tote bag or canvas tote bag that actually is comfortable, sturdy, and roomy enough to accommodate all your folders, business papers, and other office essentials, as well as keep them organized.
Talk to Your Pals -- Get Recommendations
Get in touch with your most stylish coworkers, relatives or friends. Inquire what type of canvas tote bag they are carrying -- the chances are that you'll love it too. Even better, stalk a few chic and cool friends on social media (ask them what they fancy in a canvas tote bag)
Colors: Think Long-Term
Don't just buy the first plain tote bag you see online. Do a little research. And snap up a bag that'll find good use year-round. It's always wise to stick to solid neutral colors, such as black, beige, navy, etc. Are you prone to spills and bumping into things? If yes, you should definitely go for darker shades.
Still undecided? Browse our huge selection of fabulous canvas tote bags and plain tote bags that'll blow your socks off. There's always something for everyone!