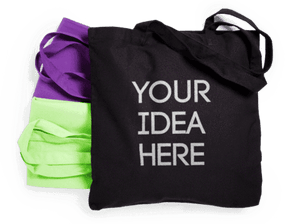 It is impressive to get the design and art on your custom tote bag. There are easy and few steps that take little time to make different personalized designs.
Printing on tote bags and transform them from being of one color a different appearance is an easy task. The following are easy steps on how to print on tote bags with bagandtote.com.
Equipment
To make the bag look so professional, you will need a plain canvas tote of any color that will be printed, an iron to set the cotton, fabric paint, masking tape which is usually used as a border to avoid paint crossing to unwanted areas of the bag, and paintbrush.
Steps
The first step is to lay the tote on a flat surface that will leave no folds. The surface should also be level on both sides. Use the masking tape to tape off the first design on either side of the bag.
Make sure that the tape is glued to the bag. Pour the paint on an open container and paint the design without crossing the border set by the masking tape. The paint should be applied evenly with much attention to the edges and vertices of the set design.
The paint should then be allowed some minutes to dry. Other colors can be repeated in other parts of the bag. The colors and designs should conform to each other. The colors should again be allowed to dry for at least ten to twenty minutes.  
Cardboard is usually placed inside the bag to avoid penetration of paint to the interior. Iron is then used to set the paint on the cotton setting.
Conclusion
These steps prove how easy it is to print on a tote bag with bagandtote.com. You should apply them in designing your custom tote bag.